Visit Exotic India !!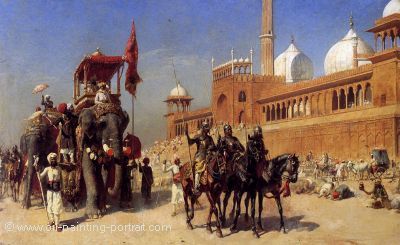 The Great Mogul Emperor returning from the famous mosque 'Jama Masjhid'
Oh! Delhi.
What we see of Delhi and its monuments now, is a pale reflection of Delhi of The Great Moguls. It is hard for us to even have a figment of imagination of the opulence, grandeur and the aristocratic culture of the Moguls.
I find many a tourists awestruck visiting the Taj or the Red Fort. However, what they fail to realize that whatever the Red Fort offers now is perhaps one fourth of the original monument. The mutiny of 1857 and the savage and brutal retribution by the English after the 1857 mutiny ( 'The first war of Independence' for us, Indians) resulted in demolition of some extremely beautiful structures within the fort as well as outside it. The famous 'Chandi Chowk' , a road running from one end of the city to the entrance of the fort, had a 'nehar' or a canal with fountains in the middle of the road, with the water from the Yamuna feeding it all the time. The purpose of this canal, apart from beautification, was to provide relief to the common man by keeping the temperatures cool . All this was demolished by the the East India Company in order to widen the road
, thereby robbing the city of its oriental charm.
Delhi holds the dubious distinction of being a capital that was ravaged, plundered, burnt, raped and razed to ground for seven times in the past. The last poet Mogul king 'Bahadur Shah Zaffar' , was captured by the English, put on a farcical trial in the Red Fort, his own home. He was imprisoned in the Red Fort throughout this trial, was found guilty of treason and was banished for life to Rangoon. It was during his banishment that he wrote this poem with a charcoal on the wall. It reflects the pain and the insult he was made to suffer and his immense love for his 'delhi'. He wrote this poem for his beloved Delhi:
When as
you came in silks and dazzled
Me with the beauty of your Springs, Bahadur Shah Zaffar, the last Mogul
You brought a new flower into bloom,
The wound of love within my being.
You lived with me, breath of my breath,
And did not part from me a while;
But now the wheel of Time has turned
And you have left without a smile.
You pressed your lips once on my lips,
Your heart upon my beating heart'
But all my trust and pride in you
Lies crushed and shattered now, alas.
And now I have no wish to fall
In love with the faithless fair again,
For they who sold love's remedy
Have shut their shop for good and gone!
More of Beautiful Delhi in my next post
I hope I have been able to provide a fleeting glimpse of 'Dilli ' of the past.
Thanks
Raj Prateek Verma
Imprisoned in Red Fort during his trail